Pinhole camera Sony 1/3" CCD 420
420TV lines Sony 1/3" CCD. Auto shutter and back light compensation. System PAL. Audio and video capture. Minimum illumination 0.1 Lux. Lens angle 69.
Details
Can be concealed easily. Use this with mini and portable DVR units.

Color picture.

Usage:
-Police
-Detective
-Journalist
-Extreme sports
-Portable miniDVR

Camera + Microphone. Record video and audio.

Excellent picture quality!
Package includes
1x Pinhole camera Sony 1/3" CCD 420
Specifications
Supply Voltage: DC12V
Horizontal Resolution: 420 TV lines
Minimum Lumination: 0.1Lux

Connectors:
Power: 2.1mm DC-plug female
Video: RCA female
Audio: RCA female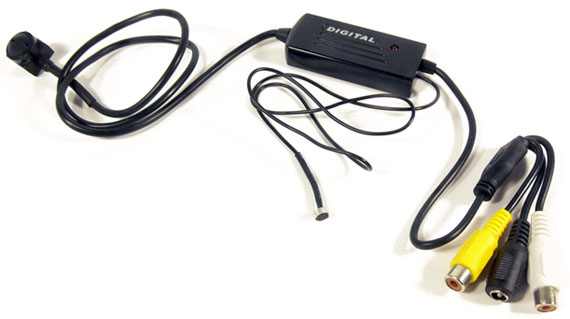 We found other products you might like!