Niceview WLAN FULL-HD Security Camera NICECAM1080WL-4
2.4 Megapixel SONY image sensor. FULL-HD 1920x1080 recording. WLAN and LAN. ONVIF and POE. Powerful night vision 20m. Motion detection, FTP and e-mail. Wide angle lens 4mm. MicroSD memory slot. Software and stand. Operation temp -30C ~ 60C.
Details
*2.4 Megapixel SONY image sensor.
*FULL-HD 1080P 1920x1080 record and live video.
*Wide Dynamic Range (WDR) function.
*WLAN (Wifi) and wired RJ-45 connection.
*Lens 4mm, view angle 65 degrees.
*2pcs high power IR LED lights, night vision 20m.
*MicroSD memory slot max 32GB.
*ONVIF-support.
*POE-support.
*Aluminium IP65 protected housing, perfect for outdoor use.
*Operating temperature down to -30C!
*Operation voltage DC12V/1.5A, power adapter included.
*Surveillance and recording software for Windows XP/Vista/7 included.
*Built-in FTP and E-mail alarms.
*Built-in web-service for remote view and configuration.
*Works with Internet Explorer (ActiveX) browser.
*Application for iPhone, iPad and Android available.
*Dynamic and static IP address.
*NTP-time server support.
*Dynamic DNS supports (DDNS).
*Adjustable motion detection from camera image.
*Video record resolution max 1920x1080.
*Protocol support HTTP, TCP/IP, UDP, SMTP, DDNS, SNTP, BOOTP, DHCP, FTP,
SNMP, RTP, UPNP ja ONVIF.
Connections:
1x Ethernet RJ-45 (female)
1x WLAN-antenna
1x Power connection (DC12V / 2.1mm)
Package includes
1x Niceview WLAN FULL-HD Security Camera NICECAM1080WL-4
1x Wall mounting stand
1x WLAN-antenna
1x AC-power adapter(indoor)
Specifications
Kuvasensori
1/228" SONY Progressive
Signaali
PAL/NTSC vaihdettavissa
Scan-mode
Progressive
Valontarve
Väri 0.2 Lux, IR-valo päällä 0 Lux.
Linssi
Standardi 3MP 4mm linssi
Yö ja päivätoiminto
Automaattinen tupla IR-CUT-suodattimet
Elektroninen suljin
Manual / Auto
Valkobalanssi
Auto / Manual
DNR
3D-DNR
IR-valo
2kpl SMD IR LED-lamppua
Pimeänäkö
20m
Koodekki
H.264
Video bittivirta
128kbps – 8Mbps; CBR/VBR
Max resoluutio
1920x1080
Kuvausnopeus
1920x1080@30fps
Tallennin
NVR tai NVR ohjelmistolla
Yhteensopivuus
ONVIF
Muistikortti
MicroSD max 32GB
Protokolla
TCP / IP, ICMP, HTTP, HTTPS, FTP, DHCP, DNS, DDNS, RTP, RTSP,
RTCP, PPPoE, NTP, UPnP, SMTP, SNMP, IGMP, 802.1x, QoS, IPv6
Hälytykset
Liiketunnistus, muistikortti täynnä.
POE-tuki
Kyllä.
WIFI
Kyllä.
Verkkoliitin
Kyllä RJ-45 10M/100M.
Virta
DC12V +/-10% / POE; Max 5.6W (IR-ledit päällä)
Toimintalämpötila
-30C - + 60C
Mitat
140x75x62mm
Files and drivers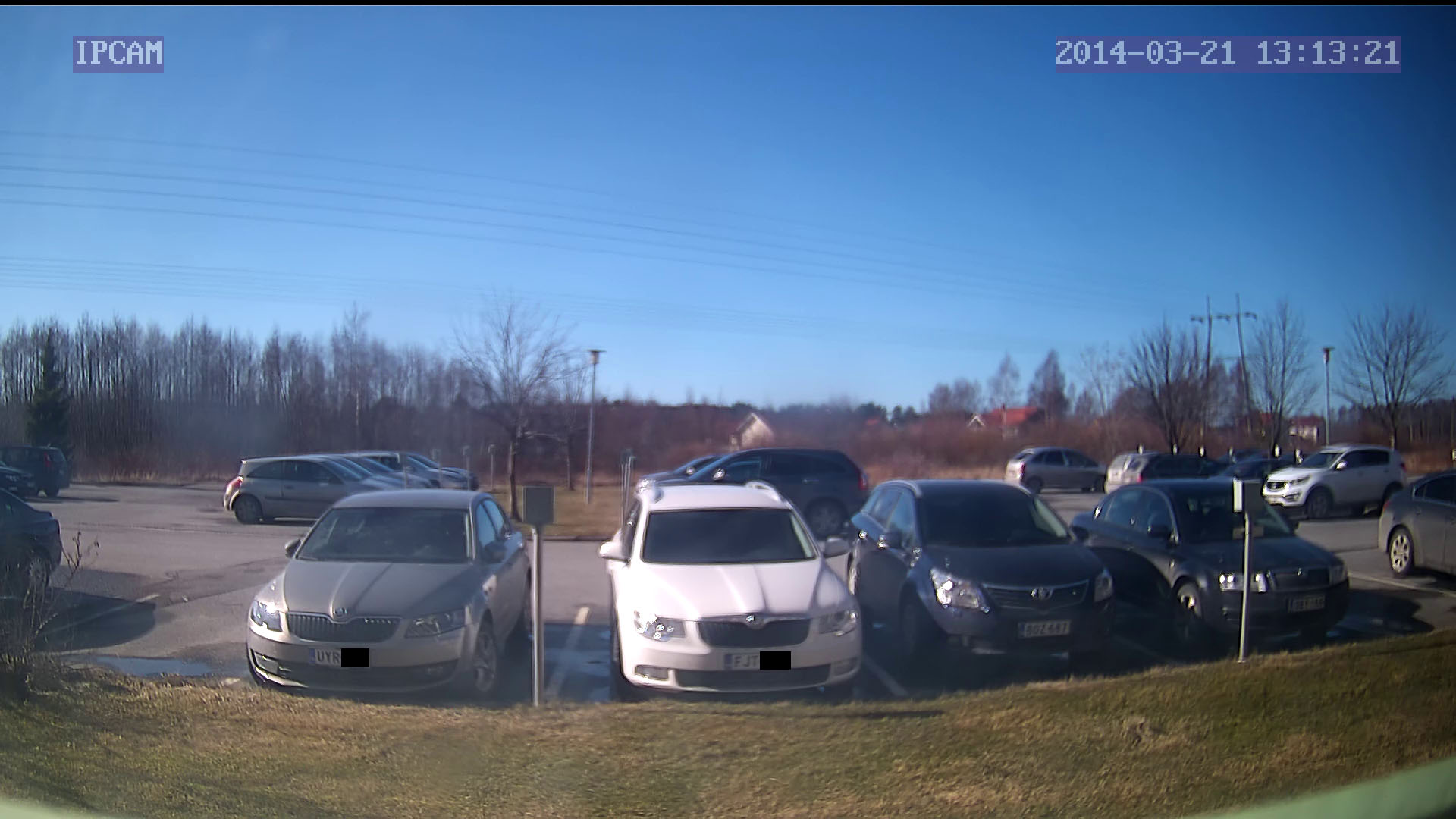 We found other products you might like!