Niceview 750WD Digital Wireless Rear Cam System
7" TFT Wireless monitor + 1pc 750WD wireless camera. Monitor with built-in receiver. Supports DC12/24V systems. Digital-signal for better image and 100m working distance!
Details
Digital wireless 1 camera system with 100m working distance (open air).

7" TFT Rugged rear camera monitor TFT070WD
*7" TFT Rugged monitor.
*Built-in 2.4Ghz/MPEG4 digital receiver.
*Support for one wireless camera at a time.
*Changeable antenna.
*Weatherproof housing.
*Bright and sharp image with image flip and mirror functions.
*Sun shade.
*Mounting brackets.
*Remote controller.
*Operating voltage DC10-32V perfect for DC12/24V systems.
*Current consumption 1000mA.
*Connections:
1x RCA-video output
1x RCA-audio output

Niceview Digital Wireless 750WD Rear Cam
See details .
Package includes
1x Niceview 750WD Digital Wireless Rear Cam System
1x Niceview Digital wireless 750WD Rear Cam
2x Antennas
1x Power+video cable for monitor
2x Mounting brackets for monitor
1x Remote controller
1x Power adapter for camera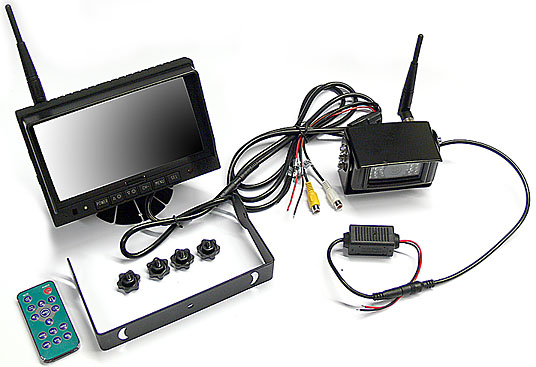 We found other products you might like!