Handheld and flexible cable. Fast-shot button. 2x super bright LEDs. Adjustable LED brightness. Dismountable magnetic head. Record resolution VGA 640x480. Software included!
Details
Perfect tool for all car and house repairers.

*Suitable for narrow spaces.
*For example motor rooms, pipes etc.
*Fast-shot button picture recording.
*Adjustable LED brightness.
*Flexible cable, length 66cm.
*Protected from dirt, cleaning with towel.
*Handler ABS plastic.
*Cable diameter 8.5mm.
*Head diameter 14mm.
*CMOS VGA picture sensor.
*Focal distance 6cm -> infinite.
*Dismountable magnetic head, for picking up screws!
*Picture record and live picture software included.
*Plastic bag for easy storage.

System requirements:
*Windows 7/Vista/XP/2000
*DirectX
*USB 2.0
Package includes
1x USB Digital Endoscope
1x Driver and software CD
1x Magnetic head
1x Plastic bag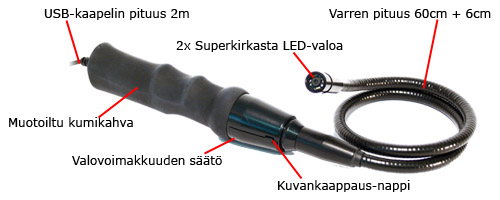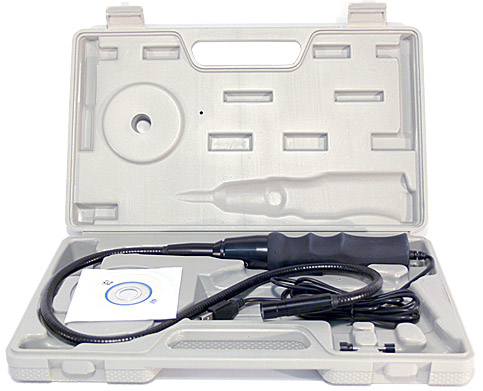 We found other products you might like!