Niceview Digital Wireless Transmitter NICEWDT750
Digital wireless transmitter. Rugged IP69K housing perfect for outdoor use. Suitable for DC12/24V systems. Operating temp -30C and distance 100m.
Details
Digital 2.4Ghz wireless transmitter for video-signal.
Connect to any camera with composite video and pair with one receiver unit.

*Rugged IP69K metallic housing, weatherproof design!
*Works below zero celsius temperatures and in rain.
*Mounting holes for rugged installation.
*Wireless working distance up to 100m.
*Operating voltage DC 12/24V (DC 10-32V).
*Current consumption max 1000mA.
*PAL-video system.
*Working frequency digital 2.4Ghz.
*4-Pin -> RCA-video input (adapter included)

Camera dimensions including stand:
104 x 105 x 25mm
Package includes
1x Niceview Digital Wireless Transmitter NICEWDT750
1x Antenna
1x 4-pin male / RCA-male / power-female adapter
1x Power-adapter cable
1x Mounting screws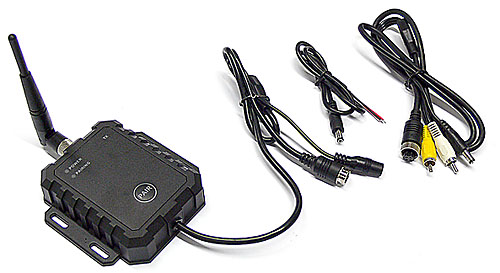 We found other products you might like!