Niceview Wireless GSM Alarm System
Totally wireless GSM alarm system. GSM-central unit, 2x wireless remote, 1x wireless motion detector, wireless door/window switch and wireless siren+light. Extend with 433Mhz wireless equipment.
Details
Wireless GSM Alarm system.

Perfect for:
*Home, office, retail store, warehouse, gas station etc..

GSM Host unit
*Connects to GSM network.
*Alarm notify with SMS or phone call.
*Supports 99 wireless zones.
*Supports Away Arm and Home Arm.
*6pc memory slots for phone numbers, 1 for SMS.
*Set arm state with SMS, phone call, remote controller, keypad (optional accessory).
*Easy and quick wireless installation.
*Built-in battery backup, power adapter included.
*Non-volatile memory, no settings lost in case of power loss.
*99 memory slot event history.
*Built-in buzzer.
*Wall mounting.

Sensors and accesories
*2pcs wireless remote controllers.
*1pc wireless PIR motion detector.
*1pc wireless door/window sensor.
*1pc wireless siren+light.
*All sensors with built-in battery.
*Operation time with full battery 1 years.
*Power adapter included.
Package includes
1x Niceview GSM Alarm Host unit
1x Wireless PIR Motion detector
1x Wireless alarm+siren
1x Wireless door/window detector
2x Wireless remote control
1x Power adapter for GSM alarm host
Specifications
GSM Alarm Host unit
*Operation voltage DC9V 500mA
*Current consumption 40mA, alarming 350mA.
*Operation temp -10C ~50C.
*Wireless operation 433Mhz.
*Dimensions 340 x 250 x 73mm.
Files and drivers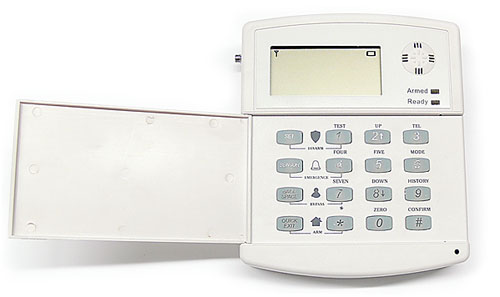 We found other products you might like!